Paulina Rubio – Superstar Performer is also a dedicated practitioner of Yoga!
Paulina Rubio and Fred Busch on Univision.  Paulina has always been a dedicated student of Fred Busch for many years.  Fred credit's Paulina's discipline for Yoga and awareness about she eats for why she always looks so great!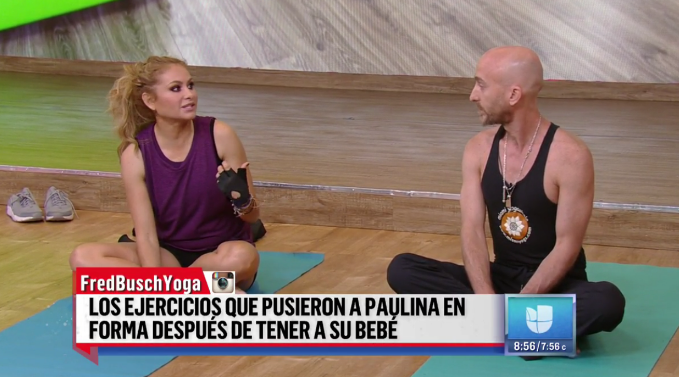 Univision writes, "El maestro yogi de Pau Rubio nos visitó en el estudio y nos demostró esa efectiva rutina que la 'Chica Dorada' hace para encontrar su centro y fortalecer su paz espiritual."
Here is the complete segment of Fred Busch and Paulina Rubio teaching Yoga that was featured on Univision!
That was my first time on TV that was broadcast around the world live! Is a big difference because I could feel the pressure of it being live there are no second takes!! I'm pretty sure my Spanish was functional thank goodness! Despierta America is a great name!
What I like most about exposure like this, besides the obvious ego gratification, is that the more people learn about yoga and eating smarter, the less suffering we will see on this planet. I am grateful to have a friend and student like Paulina for her vision and for these amazing opportunities to plant seeds about the power of yoga!!