School of Plant Nutrition – Detox and Health Coach Program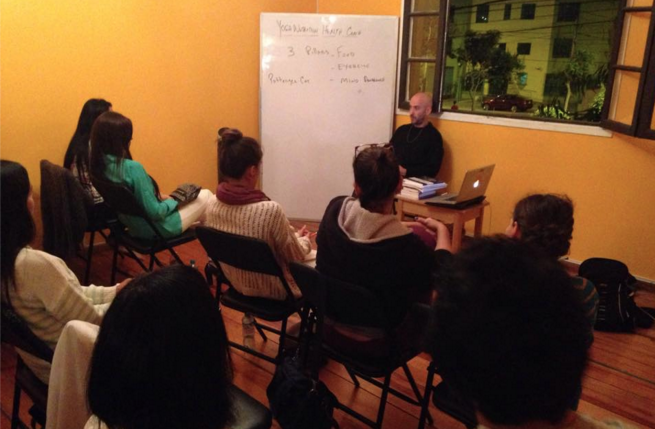 Overview
The field of Nutrition is daunting for many as there is little agreement amongst the myriad experts with high levels of education.  The only solution is to know more than everyone else and to be able to think for yourself based upon a profound understanding of the subject of nutrition.
This program with Director Fred Busch instructs future leaders in the most powerful knowledge relating to the often confusing field of Nutrition.
This program trains students to become a Professional Health Coach and how to help yourself and others to understand the elements necessary for wellness.  This program is specifically designed to deliver the tools needed for helping oneself and then helping others.  Graduates of this program have the knowledge and professional skills to guide others towards greater wellbeing.   This program is ideal for any professional in the fitness or wellness industry looking to be able to help their clients in the most effective way possible.
10 Day Health Coach Certification
Curriculum Includes:
Human Nutrition
Biology
Anatomy
Physiology
Psychology
Chemistry
Electromagnetics
Spirituality
Benefits and Reasons to Apply:
There are more reasons than can be counted to participate in the 10 Day Health Coach Certification. This Certification is valuable for Personal and Professional reasons.
 Personal Goals:
Many of your most valuable goals can be faster attained through an understanding of the subject of what is food and what is not food for a human being.
Is Health a goal for you? Tired of being sick all the time or always with low energy?  Ready to feel better?
Is weight loss a goal for you?  No problem on that!  Losing weight is not challenging and is the natural side effect of understanding food and eating according to biology!
Is athletic performance a goal for you?  Are you an athlete looking for an edge?  You found it!
Do you want to experience transformation away from mysterious symptoms towards total wellness?
Professional Goals:
Are you interested in one of the best careers for making a living while helping others?  
Are you a natural healer or natural teacher?  Do you like to help others? Ready to take the step to becoming a Professional Health Coach?
Do you want to be an expert in the field of nutrition?  Ready to walk into any room full of any group of nutritionists and always know more than anyone about food and human wellness?
Are you are fitness or personal trainer coaching clients? Do you want to help your clients or students to attain their peak performance or goal?
Do you want to learn how to reduce anxiety and stress in yourself and others?
Upcoming Dates:
– November 26th, 2017  in Bogota, Colombia at Neutra Bienestar
-February 2nd,2018 in Miami at Sacred Space
Colorado August 24th, 2018 at Salamadhi Ranch, Colorado
    Course Requirements and Syllabus
School of Plant Nutrition Health Coach and Detox Certification 
An Intensive 10 Day Program
Next Dates:
Bogota November 26th, 2017 at Neutra Bienestar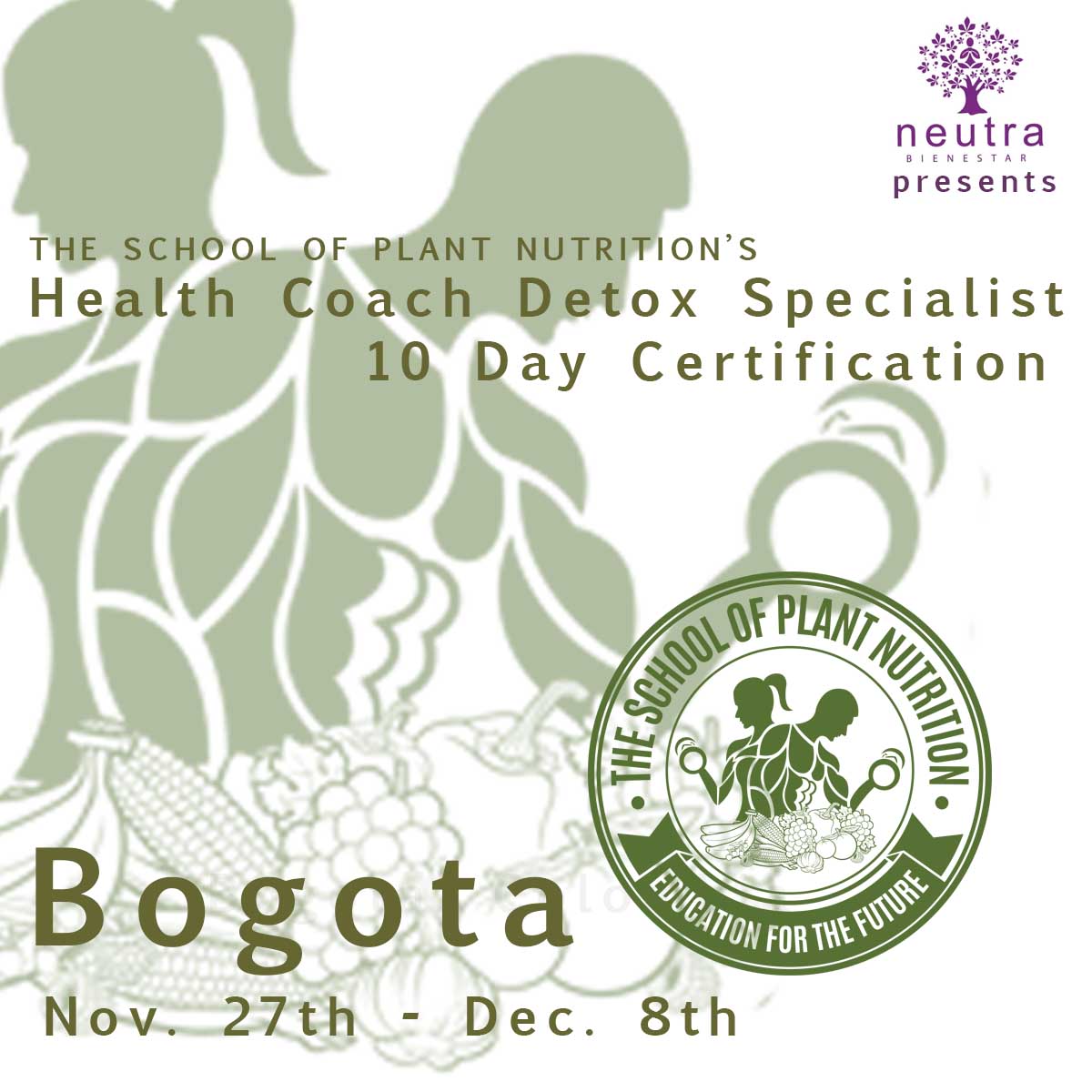 Miami February 2nd, 2018 at The Sacred Space Miami
 Required Texts
The Official Course Manual by Dr. Robert Snaidach
The Detox Miracle Sourcesbook by Robert Morse, N.D.
A Clear and Definite Path by Fred Busch
The China Study by Dr. Colin Campbell
The School of Plant Nutrition's  Health Coach certification is based on the principles of Integrative Health and Nutrition relating the 3 most important components for well being- Smart Exercise, Smart Food, Awareness of Mind Patterns. It is both for persons interested in becoming powerful Health Coaches and for Yoga Teachers who want to become much more valuable to their students. This is a professional certification designed specifically for those wishing to become Teachers and local Authorities on the subject of Food and Nutrition and how it relates to Yoga and overall health.
This Health Coach certification is inspired by Dr. Robert Morse developed by Fred Busch focuses on the Nutrition aspect of wellbeing for Yoga Teachers who want to be able to guide their students and clients to the highest level of well being and physical and mental performance.
This Nutrition Certification is a potent training for both personal and professional intentions.   This program is primarily interested in the prevention and healing of diseases of all kinds through the application of the laws of nature and what Fred Busch calls 'The Three Pillars.'
For Yoga Teachers and Healers:
Sometime just teaching Yoga is not enough to make a real difference. The more we teach Yoga the more we realize that people Yoga practices and indeed their life path is determined and constrained to a great degree by their diet. Students that eat better have better results in Yoga and people who eat better have better results in their overall health and wellness.
The ability to effectively express the virtues of eating less animal foods and more in accordance with human physiology is something that requires specific training in several areas. Students and future teachers must have both sufficient knowledge  to answer any nutrition related question and have the skills to manage the many psychological barriers that people erect when the subject of food is raised.
The School of Plant Nutrition Certification teaches the chemistry, physics and electro-magnetics of smart eating.  Fred Busch also instructs clearly the critical ways to disarm the barriers so that people's resistance to changing diet.  Students are given lifestyle requirements during this training so they are able to understand, experience and absorb the information being transmitted.
It is also ideal for anyone who is searching for knowledge. This training teaches many things along with the biology and physiology of human nutrition and human psychology and how to effectively relate this information to the general public.
The School of Plant Nutrition certification includes two of the most powerful manuals ever written about Nutrition and Biology and Human Health authored by Dr.Robert Snaidach and Dr.Robert Morse. This intensive 10 Day program instills the fundamental principles of Nutrition, Biology, and how alignment between these principles and ourselves allows us to move towards health and wellbeing!
This Certification blends the scientific reasons for eating with awareness with the communication skills required to transmit the information to those in need. This Certification Program prepares students to become true leaders in their community in the field of wellbeing and health. As the world is becoming more aware of the connection between lifestyle and food consumption, professionals trained in the deepest understanding of health and wellness will be in greater demand.
 Who should take this course?
 Health Coaches, Yoga Teachers, Nutritionists, Personal Trainers and anyone interested in real wellbeing and health either for clients or for personal reasons. People who want access to the most powerful information that can simplify the facts and clarify the many contradictions floating around the nutrition world.
As a Yoga Teacher it is not totally sufficient to teach just physical asana or pranayama or even meditation without addressing the question of what students are eating. This training will give you the capacity to effectively bridge this subject and thus be a much more effective healer for your students.
 What makes this course unique?
 This course is unique because the curriculum is unique, the manual is unique, and the main faculty member is unique.   This is a Nutrition program that is based on eating more plant foods (vegetarian or vegan) and describes clearly the difference between the different sources of protein available. This course brings together wisdom from Yoga and from a wide range of resources to synthesize a presentation that bring a full spectrum awareness of the way the world works. Learning to think critically and to appreciate the relationships between things.  Never again be fooled by anybody speaking about the subject of food and always be able to counter in a direct and scientific way any claims that eating plant based foods is not optimal.
Fred Busch is a unique teacher world renowned for having a special depth of knowledge, and a special capacity to transmit that knowledge and a greater understanding of nutrition, wellbeing, and the way the universe operates to his students.
Topics Covered  1)Intention – Knowledge is Power 2)The 3 Pillars of Wellbeing- Exercise, Food, Awareness 3)Meat – Inferior Food 4)Anatomy of Human Digestion 5)Meat – Physiology 6)Meat-Psychology 7)Meat-Spirituality 8)Dairy- Reasons to avoid 9)Eggs- Facts about Eggs 10)Raw vs Cooked – Raw Food vs Cooked Food Nutrtients 11)Protein – Where do we get our protein? – All Amino Acids 12)Fats – What are good fats and why are they so important. 13)Enzymes – The spark of the functioning organism 14)Probiotics –Beneficial Bacteria 15)Silence – The key to success 16)Exercise – The disproportionate value – Venous Blood Flow 17)Sleep – Sleep and the immune system. 18)Drugs – Drugs are stimulating 19) Nature of Disease – Root causes of most illnesses 20) Detoxing and Fasting 21) How to teach from a place of non-judgment.   Required books to be read and book reports delivered as part of final certification process. The YogaNutritionistTM Manual by Dr. Robert Snaidach Dr. Jenson's Guide to Biochemistry and Nutrition by Dr. Bernard Jensen The China Study by Dr. Colin Campbell Sugar Blues by William Duffy A Clear and Definite Path by Fred Busch Algae to the Rescue by Karl Abrams
Outcomes – What Graduates can expect
Graduates will be able to identify the sources of most people's health issues and identify the ways to heal.  Graduates can expect to possess a powerful tool belt from which to draw from to assist people from all ranks of life on their path to greater wellbeing and health freedom. Learner will be a leader in the field of Health, Nutrition and Wellbeing in their community.