School of Plant Nutrition – Detox and Health Coach Program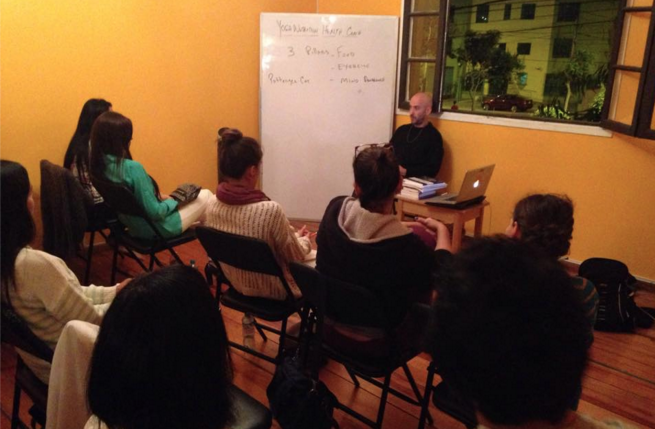 School of Plant Nutrition's Detox and Health Coach Program
with Fred Busch and John Lewis (aka Bad Ass Vegan)
Upcoming Dates:
-August 25th at Salamadhi Ranch for our 10 Day Residential Intensive
-February 2nd in Miami at Sacred Space
    Course Requirements and Syllabus
 Welcome! Congratulations on your decision to consider this program! The experience and knowledge gained provide the foundation and power behind your ability to heal yourself, and to be teachers and leaders in the field of Wellness and Nutrition.
 Course Requirements
YogaNutrition Sadhana
Completion of Required Assignments and Homework
Examination
 Lifestyle Requirements
Dietary discipline is required. Experience is the foundation of leadership. No alcohol and no addictive substances.
 Journal
10 minutes daily of journaling
 Food Log
Recording all food and drink taken into your official journal.
Required Texts
The Official Course Manual by Dr. Robert Snaidach
The Detox Miracle Sourcesbook by Robert Morse, N.D.
A Clear and Definite Path by Fred Busch
The China Study by Dr. Colin Campbell
Final Written Examination –
All students must pass YogaNutritionist™ final written exam.
Required Homework Assignments– Homework Questions, Define and Describe, Video Assignments and any other assignments personally given by faculty
Practical Examination –
Demonstrating thorough understanding and an ability to communicate the material.
Official Syllabus
Sample Daily Schedule and Curriculum
Day 1
Yoga and Meditation
Lecture 1
Break
Lecture 2
Read and Study Group
Break
Lecture 3 and Practical
Teacher Objectives
Course Requirements
Overview of Course
Intention in the Food Talk to clients
Introduction to Robert Morse and his system
Orientation and Introduction to Fred Busch's YogaNutrition
The 3 Pillars of Health and Nature of Feedback Cycles
Weight Loss can Compromise Health
The Power of Meditation
Required Reading
Course Manual – pp. 9-30
The Detox Miracle Sourcebook pp. 1-11
Define and Describe
Define the following words:
Natural
Palliative
Genetic
Mineral
Toxic
Day 2
Yoga and Meditation
Lecture 1
Break
Lecture 2
Read and Study Group
Break
Lecture 3 and Practical
Required Reading
YN Manual – pp 58-72 / 173-179 / 290-200
A Clear and Definite Path – Finish by Day 4
The China Study – pp. 1-27
The Detox Miracle Sourcebook Chapter 2 –pp. 12 -58
Required Video Assignment
Watch Documentary titled – 'Food Inc'
Teacher Objectives
Prof. Emoto and Water and the Mind
How the Body Works
The Four Basic Processes
The Body's Systems
The Cell
Tissues
The Cardiovascular System and Blood
The Digestive System
The Eliminative Systems
The Endocrine Glandular System
The Muscular System
The Nervous System
The Reproductive System
The Respiratory System
The Skeletal System
Define and Describe 
Mucus
Vitamin
Pathogenic
Photosynthesis
Chronic
Frugivore
 The School of Plant Nutrition's 10 Day Detox and Health Coach Program
Introduction
This course is a complete presentation on the subject of Nutrition and the Keys to Wellbeing as dictated by the law of Nature. This course delivers knowledge of a full spectrum of of the factors the promote Wellbeing and describes the many obstacles facing people in their quest towards greater health.
What is the need for this course?
There is a great need for this course in the present age due to the massive amount of misinformation prevalent in today's society on the subject of human nutrition and the clear consequences of this misguidance.
All over the world today we are seeing similar trends of disease and degeneration as humans move more towards a homogenized dietary. As human culture becomes more sedentary, relies more and more heavily on animal products, and less use of plant foods we witness increases in the rates of cancer and diabetes in various countries.
It is not acceptable for people to be dying young of cancer when the mechanism behind cancer growth are understood and can be mitigated to great extent. Too many classically trained nutritionists are counseling people to eat according to the old 'food pyramid' which does not distinguish between fried animal protein and raw plant protein.
Prevention is much better than cure and a major focus needs to be developed towards educating about the various obvious causes of cancer and diabetes so they can be prevented in up to 80% of the potential future cases…and avoid a lot of suffering.
What is needed is a new breed of Nutritionist… what we call the YogaNutritionist™ who is able to integrate the biology and physiology of human nutrition with the exercise and awareness of Yoga practice to create the perfect means to assist people in the evolution of the various dimensions of their life.
Who should take this course?
 Health Coaches, Yoga Teachers, Nutritionists, Personal Trainers and anyone interested in real wellbeing and health either for clients or for personal reasons. People who want access to the most powerful information that can simplify the facts and clarify the many contradictions floating around the nutrition world.
As a Yoga Teacher it is not totally sufficient to teach just physical asana or pranayama or even meditation without addressing the question of what students are eating. This training will give you the capacity to effectively bridge this subject and thus be a much more effective healer for your students.
 What makes this course unique?
 This course is unique because the curriculum is unique, the manual is unique, and the main faculty member is unique.   This is a Nutrition program that is based on eating more plant foods (vegetarian or vegan) and describes clearly the difference between the different sources of protein available. This course brings together wisdom from Yoga and from a wide range of resources to synthesize a presentation that bring a full spectrum awareness of the way the world works. Learning to think critically and to appreciate the relationships between things.  Never again be fooled by anybody speaking about the subject of food and always be able to counter in a direct and scientific way any claims that eating plant based foods is not optimal.
Fred Busch is a unique teacher world renowned for having a special depth of knowledge, and a special capacity to transmit that knowledge and a greater understanding of nutrition, wellbeing, and the way the universe operates to his students.
Topics Covered  1)Intention – Knowledge is Power 2)The 3 Pillars of Wellbeing- Exercise, Food, Awareness 3)Meat – Inferior Food 4)Anatomy of Human Digestion 5)Meat – Physiology 6)Meat-Psychology 7)Meat-Spirituality 8)Dairy- Reasons to avoid 9)Eggs- Facts about Eggs 10)Raw vs Cooked – Raw Food vs Cooked Food Nutrtients 11)Protein – Where do we get our protein? – All Amino Acids 12)Fats – What are good fats and why are they so important. 13)Enzymes – The spark of the functioning organism 14)Probiotics –Beneficial Bacteria 15)Silence – The key to success 16)Exercise – The disproportionate value – Venous Blood Flow 17)Sleep – Sleep and the immune system. 18)Drugs – Drugs are stimulating 19) Nature of Disease – Root causes of most illnesses 20) Detoxing and Fasting 21) How to teach from a place of non-judgment.   Required books to be read and book reports delivered as part of final certification process. The YogaNutritionistTM Manual by Dr. Robert Snaidach Dr. Jenson's Guide to Biochemistry and Nutrition by Dr. Bernard Jensen The China Study by Dr. Colin Campbell Sugar Blues by William Duffy A Clear and Definite Path by Fred Busch Algae to the Rescue by Karl Abrams
Outcomes – What Graduates can expect
Upon completion learner is eligible to receive the School of Plant Nutrition Certificate of Completion from Fred Busch and John Lewis. Learner will be able to identify the sources of most peoples issues and identify the ways to rehabilitate. Learner will possess a powerful tool belt from which to draw from to assist people from all ranks of life on their path to greater wellbeing and health freedom. Learner will be a leader in the field of Health, Nutrition and Wellbeing in their community.