Student Testimonials from Graduates of Fred Busch Teacher Trainings and Yoga Students from around the world.
"Maestro Fred, Soy muy afortunada de tenerte como mi gran maestro y amigo, eres y serás siempre mi ejemplo a seguir!!! Gracias Fred por cambiar mi vida y gracias por compartir lo qué haces con nosostros! "
Hi Fred
Today one year ago we where finishing our training, no doubt it was a life changing experience for all of us! Fred thank you so much and all the teachers working behind and aside of you, thank you for all your wisdom, knowledge, experience, love, and teaching that you gave us, and still give to us.
A lot of people have said this especially those of us that are lucky enough to cross your path and learn from your voice and heart, you are the best Guru, friend, guidance, and teacher of all! Fred Busch thank you, for help me find my way everyday. I miss you so much, and I humble hope to see you again, with these new eyes, heart, voice and enlightening that you gave me with no boundaries, thank you for teaching me to appreciate life and be grateful for every moment, every person, every situation.
You will always be in my heart and by hand with your words of wisdom. Thank You Fred Busch TT! Thank you God for letting me find them and them to find me.
K.T.
Hi Fred,
Just wanted to share something with you. My dad is 62 years old and has been practicing yoga over the last 7 years.
I think he is in great shape because of his yoga practice. But over the last seven years he has always been judging and judging himself about what he cannot do what makes him frustrated about is practice.
One of these things is his balance in postures. The day I left Miami, he asked me if I had learned something about keeping your balance. As an answer I mentioned to him that
you taught us to always be thankful for what we CAN do and how it has made such a difference in my own yoga practice.
When I got back home today I was talking to my parents on skype and my mom said: 'I have a different husband.'
He told me how this morning in his yoga class he was focusing on giving thanks to all the things he can do. He said he couldn't believe he had passed 7 years judging himself about what he cannot do.
I thought it was such a beautiful thing to share with you, because I was not even aware of the difference it could make for him. And now you see, I'm not even teaching yet, but my teaching through your teaching has already made a difference across the Atlantic!
So thank you for teaching me to always give thanks for what we can do.
See you tomorrow!
Dear Fred.
I cannot thank you enough for these 18 days of transformation I have experienced in all levels of my being. Sorry if my grammar is not perfect, I am writing straight from my heart (not from my head).
I would like to share this story,  It took me over 2 years to decide where to take my teacher training. My first encounter was Mano with whom I practiced yoga for a very long time and he constantly encouraged me to take it there but I wasn't sure, even though I feel a deep appreciation for his teachings. Then when I practiced with Paul Touliuzis, whom I also admire, he also motivated me to take it there but still wasn't quite convinced. Where I practice now, the Yoga Joint, which is convenient since it is close to my kids school and has heat, they also insisted I was ready for their training but still wasn't convinced, because it lacks spirituality. I also saw other places.
Then I went to try one of your classes on December 21st, and right away I knew and felt this was what I was looking for all this time and registered  at the moment. After taking your class and listening to Mayara's mediattiom found all the elements I was looking for that other studios where lacking in my perception, either spirituality, safety, a practice that builds strengh, progressive asanas with heat to develop a stabe flexibility, precise and clear instructions, An acknowledgement to students during class, a personal touch, a practice based on a lineage, a balanced and well structured sequence, profound opening Nd closing meditations, a space with good energy and a feel of authenticity, a decoted teacher with no ego, and your wife Mayara with her pure energy and her smile. In few words I felt at home as a student and with the group at your class.
I feel so blessed I trainned with you. I am deeply deeply thankful for all that you taught me, every single thing brought me more awareness into myself which I believe is what yoga is about. I promise I will continue to grow and evolve these powerful seeds that you planted deeply on my soul.
Gracias de corazón
Daniela
Hello Fred! I just finished my first chair yoga class for seniors, it was beautiful, they were very happy and relaxed at the end of the class. Im so thankful to you for answer all my questions and doubs, and feel very grateful I was able to take your TT.
Thank you Fred for everything! I'm so thankful for the training I had with you last year. It really helped give me the confidence I needed to just go for it, and dive into my dream. It had been lingering there for 6 years, since my training and India. My training with you though showed me how to make it my lifestyle and still live in the western world. Thank you thank thank you!
Much much love!
Hi Fred,
So am in Guatemala now since a few weeks – been staying at the 'yoga-house' a community structured around daily yoga classes. I am enjoying it!
These are the first classes I've taken since completing your training in Bogota and I have to say – it's made me realize that no yoga class
will ever be the same after that  Because once your taught and shown how to do something so well – you're left forever with that double-edged sword being that on the one hand – you know a fantastic way to teach and to learn yoga, but on the other – you instinctively and without being able to help yourself, measure every other yoga class up to that standard.
I want to make one point about touch. In the classes I've been doing here I've noticed the students never get touched. Occasionally we get adjustments
but it isn't the same as that healing, loving touch which just says 'hi' and thanks the person for being there – making them feel a warm glow and reminding them that they are there, and they are entitled to unconditional love just like everyone else. So thanks to the experience of NOT having touch in classes – I fully appreciate just how important and how healing it is – and how much I want it in MY classes! I want to thank you so very much for making this a priority in your training – I think you and I both know that I didn't truly appreciate the meaning of touch at first. NOW I get it  Thank you for emphasising it as you do! xxxxx  Thank you for everything xxxxx    (p.s. wanted to post this on your timeline but couldn't figure out how)    Taryna
Dear Fred,
Thank you for creating the healing sequences for lower back pain and for writing your book The Lower Back Bible!
It sure worked for me; the Doctors wanted to fuse my back and swore that i would never skate board again… they were wrong lol
Well, its about time I share this for all my students. I have spoken to a few of you about my past and how I came back to teaching after so many years of injury, recovery, life changes.. etc.. After my 1st accident in 2010 I had to have spinal surgery resulting in a loooooong time of 0 movement. I became depressed, unhealthy and frustrated with everything.. Especially myself. Within 1 year I went from 115lbs to a whopping 180lbs. At that point, I knew I needed to return to my roots and get back to my yoga ASAP. I put this together for my guru and dear friend Fred Busch that helped put me back on the right track. I changed just a few things, never went on a diet, nor ever tried to loose weight. I just wanted to live longer, be healthy and happy. 3 years later, I am stronger now then ever. Physically, mentally… In a way, I owe him my life as he helped me 'shed' my old one 
XO
"You're the best guru I could have ever imagined up but you're so real and I'm so grateful!"
This is why I went to Colorado to train with Fred Busch!!! His yoga teacher training was really LIFE TRAINING. There was so much that I took from it, so much that it has done for my life already… I am forever grateful. Not to mention that the beautiful people I made friends with in the training also added to my life change. There are no coincidences. I went out there during a hard time in my life and I came back renewed. The week I got back I started working as a yoga instructor, and I'm working to be a person that can provide this kind of service to others.
Thanks Fred for everything you do! I love you!
So yes, if you're considering taking a certification course, you should definitely do so with #FredBuschYoga
hi fred|||
I hope you be great, im only want to write you for to say thanks for everything you teach us! i know i pay my course, but you give me the tools to help  the others and the best base… today i check some videos of teacher trainning and remember a lot of details! my savasana its amaizing and i dont say that, its every people who take my class, im really happy works like teacher, for me its the best job in the world!     one more time, thaks Fred and I hope see you soom :):)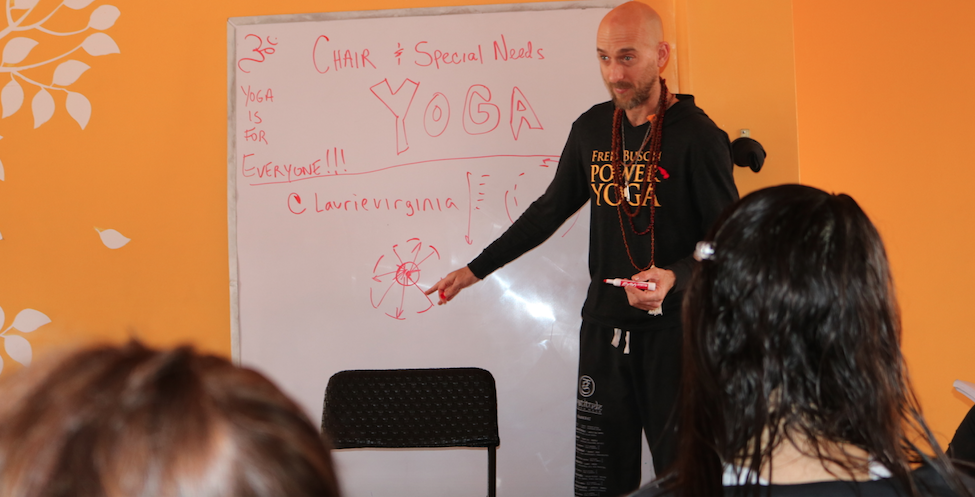 Fred, thank you so much for believing in me, and allowing me to do my teacher training even when I couldn't afford to pay you for all of it. I am sharing the practice with so many people and introducing the practice to so many beginners who keep coming back – my heart overflows with gratitude!! Thank you for not doubting me, and for always being so steady and such a wonderful guide!!!
"Somethings i want to say to you my dearest master.
I came into that room with no hopes or expectations of anything, didnt know what i could do, what miracles where made of. You change my world transform my self and make me a better person everyday. I remember you with great love and try to give daily to others what you gave to me.
I didn't knew at that time what could i do with my body and how to cease my mind, thank you for everything God bless you a your family, you are a blessing to all of us. Please, please keep on doing what you are doing you make this world a better world the world it was meant to be!
Dear Fred, You have taught me many things which I cherish dearly; but perhaps, the one that has truly been a remarkable awakening for me, were the words you once told me: "you've been liberated". Yesterday I had to face a similarly challenging situation (to say the least), and the first thing that popped into my mind was you saying those exact words. All of a sudden I was overwhelmed by this feeling of "everything-will-be-ok". I then decided to embrace the moment and truly feel (and believe) that everything happens for a reason and the universe is so much wiser than I'll ever know. I just needed to drop you a line and thank you from the bottom of my heart for your teachings. You are truly an inspiration and I've been (somehow) tremendously blessed to have such a wonderful master, and there aren't enough words to even begin to tell that you'll forever have my most profound, sincere and infinite appreciation. It will be my most absolute honor if I ever have a chance to take another course with you. With endless gratitude and admiration,
Barbara
Hi Fred, last night was my first class at the gym. The room was packed, they had to put people on the waiting list. Next week class is already filled up as well. The manager took the class and loved it. She wants to convince the owner to have a second one on the schedule. I also have a third class with my restaurant manager, owner and some of the staff at the first location every Monday. My weight continue to drop, my energy level is awesome, I'm getting stronger, life is good!  Consider this student's testimonial to be a 100% thumbs up!
Your thankful French Canadian student
Dear Fred,
Just a note to say Thank You. I know you're not doing what you do for me nor any person in particular, like you explained this afternoon, but either way I wanted to let you know that I have been experiencing amazing days so far and I really would like to thank you for that because your words and your way of teaching us really plays a big role in that. Lovely to have a master who is direct, no-nonse and blunt yet a loving vessel passing through and showing the wonderful philosophy at the same time. You are helping me to eventually become the teacher who's singing and dancing in my heart. Just felt the urge to thank you for that I guess… 😊
Hi Fred:) Thanks from the bottom of my heart for your beautiful, healing teachings! We met at your studio and you helped me with wrist adjustments..they have really helped and after over 10 years of practicing yoga, in India and NYC your practice is really helping me in every aspect of my life:)
Liah
I went to training with the goals of improving my personal practice and being able to teach a few classes a week. Now, all I want to do is teach! I had a wonderful experience that I will forever remember. Thanks again for everything.
still lost for words. still… Words are simply too small to express my gratitude, so I will write Thank You, but you should know it is as vast as the universe.
Dear Fred,
The teacher training was transformative and so much therapeutic for me. I just wanted to thank you again for sharing so much of yourself, teaching from your heart and thank you for making a difference in my life. I don't like to label myself as an introvert, but i can be sometimes;-) I did not interact with you as much as I wanted but I appreciate your words in helping me find the path towards my own inner "guru" and navigating thru life in a more peaceful way. The training provided me with the skills to sit confidently and authentically in the seat of the teacher ….with a little practice first I will keep doing my Karma yoga at the studio, talked to Megan, so I will definitely keep in touch.
A follow up on that testimonial about The Lower Back Bible:
Hi Fred, I have to say your book has helped me immensely! And yes I got back on my bicycle.
I've been challenged with disability for most of my life (had a stroke at 5yrs old) but I'd been able to enjoy an active life in spite of it, until the last few years. Because of walking difficulties and generally bad posture my lower back pain begun to take over. Nothing else I'd tried had really worked and by Christmas I was hunched over using a walking stick. I found your book searching the internet one very painful sleepless night.
I was amazed that I could perform the positions without making my pain worse and in doing so noticed I was improving with each day. Your Yoga has made me stronger and realigned my body. I accept that I may still aggravate my back doing day to day tasks and because of the way I walk, but I know that these wonderful positions will straighten me out at the end of the day.
I'm still practising Sequence 1 and for now feel it's enough. When I explained your methods to my physiotherapist she agreed I should continue with it and couldn't suggest anything better.
Thank you for taking the time to write the book."
Hi Fred. I just wanted to say that what you wrote a few weeks ago about yoga helping to rise above the chatter vs doing other things that let you escape but you go below the chatter really resonated with me. It is sooo true! I just wanted to let you know. Really awesome post I'm still thinking about it Thank you!
It's been almost five years I think since I have seen you. Thanks for creating and including me in this group; what a wonderful idea. Also, I thoroughly enjoy your "did you know" posts. Furthermore, I just bought and desperately needed your new book "The Lower Back Bible". I wanted you to know that you are still to this day my favorite yoga teacher by far. I think you are truly gifted. I am glad you are traveling the world sharing your gift.
Take Care,
Dear Fred
I just wanted to send you all an email thanking you for changing my life. I apologize for not sending this sooner. Because of your wonderful yoga teacher training program I am aligned with my purpose here on Earth. I have been exposed this beautiful massive new world that I never knew existed. The more I learn, the more that I find there is to learn. Far from being overwhelmed, for the first time in my life I am truly empowered and I see clearly the direction I need to go in. I am turning my family's health around by leading them through example to eat properly and increase their activity levels. My father (severe type 2 diabetic) now eats salads everyday for lunch, is losing weight, and stabilizing his blood sugar. Also a huge step, my mother no longer keeps white bread in the house and she eats raw almonds for a snack at work. Those are just a couple of instances where I have influenced others to love themselves more and to be more mindful about their health.
 My yoga business is keeping me so busy! I am teaching classes for LA Fitness as well as for a company that offers classes to the timeshare resorts by Disney. My  boyfriend's next door neighbor is a Bikram teacher who just opened his own studio called OM on Fire (which is also the name of a eco-friendly cleaner that he makes himself) and wants to offer a hot power yoga class (Bikram headquarters hasn't responded to his request to label the studio "Bikram"). It's in Brevard County, and I'm teaching in Orange, Seminole, and Osceola counties currently! Bringing light and balance to all of Central Florida! Haha. In Seminole County, I'm teaching donation-based classes once a month to raise money for an environmental nonprofit that I volunteer for. I got my group fitness certification and also teach aqua fitness!! Hustling! J
 I've immersed myself into the holistic lifestyle, going to free workshops from foods for pain relief to medicinal plant workshops (I made a tincture for my mom with peppermint and chase berries to ease her menopause-induced hormonal imbalance.) I'm attending the Rasa Lila Fest at the end of this month and attending multiple workshops and classes to boost my knowledge and ability to help others. My goal is to develop  a well-rounded wellness coaching practice and change other people's lives the way you both have changed mine.
 The best part is that all of this is just the beginning to the rest of my life. I have so much to learn and I am so excited to learn it. I want to come back to you both for my 500 hour certification, and travel with you to retreats. Even though I live in Central Florida, I want to make the opportunity for myself to come back to Miami for the sole purpose of more training from you both. I have all of these goals written down, and I am chipping away one by one.
 In a nutshell, I don't know where I would be without you. I was led to you in a dark time and discovered that all the despair and frustration in my life was the light within me begging to be expressed. The voice of my nature was muffled and I couldn't hear the wisdom clearly. I am finally connected with my true Self and can clearly experience the peace and love that most people search their entire lives to find. When negativity enters my life, I acknowledge it as a friend instead of an enemy, leading me along my journey. It is becoming second nature to view unfortunate events as diamonds in the rough. If feel my vibrations lower, I can instantly bring them back up and my heart feels light and free. I can really feel the heaviness of the slow frequency vibrations of negative energy as well as the uplifting floating faster frequency vibrations of the positive energy, and I can CONTROL it.  I do not fear loss or sadness because I know it's all there for me to learn from.
 I could go on and on and on about how amazing my life is, but I know you are busy. I am so blessed to have been led to you and my heart overflows with gratitude for everything I have learned as a result of your beautiful wisdom.
 Thank you thank you thank you thank you thank you!!!!!!!!!!!!!!
It's difficult to put into words how the last few months have changed my life.
It all began when I walked into a hot yoga class at Brickell Hot Yoga and fell in love with an amazing class that incorporated deep breathing, heat and guided meditation! I've never felt so good after leaving a studio and I've tried them all, Pilate's, Core Fusion, spinning, etc…
After some  big life changes I found myself searching for my life passion and how I could help people on a daily basis. As my own yoga practice developed I decided to take my first 200h Teacher Training at Brickell Yoga. I dedicated 30 days of study to practice yoga 4-6 hours a day, eat a vegan diet, daily meditation, and study of this ancient multi-dimensional practice. It was a complete mind-body transformation. My breathing slowed down, and my once Asthmatic Lungs became clear and strong. My whole body slimmed down and became more toned and flexible. The final change, was my nervous energy and my mind became peaceful and relaxed.  I've never felt better in my life.
Completion of the 500 hour Yoga Teacher Training took my practice and teaching skills to the next level!
Each day was exciting and challenging in the best way. It was the perfect balance of thought provoking, intellectual lectures and yoga asana practice.
There are some people who are truly gifted speakers and Fred Busch one of them!  The delivery of information in his lectures is captivating, stern, humorous, and filled with analogies.
I am truly blessed to have learned from  you.
I know that Fred Bush Power Vinyasa Yoga is the best. I always get compliments on how my class is the perfect balance of meditation, spirituality, exercise and stretching.
Thanks to Fred and Mayara; I have knowledge which I never would have had, humility of my inner strength, and dedication which continues to surprise me. I have faced fears that I never thought I could over come.  I feel younger, healthier, and full of life. Friends have commented on how healthy and happy I look and feel.
It is yoga that keeps me dedicated to yoga.
Marcie Wingate
Fred, first of all – thank you for all of the amazing teaching you provide. I can't tell you how meaningful it is in my present-day life. Let's just say that only on my last Afghan deployment have I practiced so consistently (actually you've got me FINALLY working in some on my own, so exceeding that), and looked forward to it so much.
Also, please accept my appreciation for how intuitively you 'get' your students sometimes. The 2nd time I attended, I mentioned after class that I was so stressed and feeling overburdened, yet HAD to make your class. You hugged me, and that was something I really needed that day 🙂
Finally, I was hoping you could repeat a couple things you mentioned today when you graciously examined my ankle tendon today. There was an external to rub onto it, and a powder to drink…what were those names again?
(and I'm truly sorry you had to touch my roughed-up feet…I'll get a pedicure, you have my word!)
Thank you once again – and blessings upon you for all that you do.
See you Thursday,
Dan
I'm amazed at how much you were able to pack into just a few weeks. It was a great class and I'm so glad I got the chance to take it with you. You are a very talented trainer and I appreciate the time and dedication you put into transferring some of your wisdom to us!
Peggy
One of the things I like most about having done the 200 and 500 hr Teacher Training with Fred Busch and Allaine Strickland is that I can tailor my classes to my students needs and answer pretty much any questions that come up during or after classes. Second thing is the emphasis on safety and protecting the lower back
and offering the right alternative! Thanks, Fred Busch! Did I also mention my students across all settings and abilities have told me they prefer my style of teaching, too? "Winning!"
Angel
Angel took the words right out of my mouth. Fred Busch, your presence is with me in ALL my classes. Constantly reminding my students about elbows in, belly engaged and bend those knees!! Lol. Just to name a few. Both my 200/500 hour manuals are like bibles of yoga! Your support thru training and after have been invaluable.. Forever grateful in my heart. (And you too Angel Saunders )
melissa
I think I remember you saying that. Unfortunately, I've committed another learning avenue over 2013. I have two week long breaks between. Perhaps I could get in on a retreat, training or workshop during a break. I feel like I learned so much from you and am still processing the entire experience. I find myself missing Rishikesh and the awesome energy of the group. Thanks for contributing to an experience that has colored my reality in the most incredible colors. Please keep me posted on upcoming Fred Busch events. Hope all is great! Much aloha,
Grace
Hi Fred,
It is not yet the end of the training but I want to say thank you… I am really happy with my 1st teacher training… I have learnt a lot with you… Thank you… You're not just a good teacher you're also a beautiful person but don't worry I am not going to kiss your feet…
Regarding the end of my training, I have to go to my Godfather's funeral on Thursday in Paris… I'll be back on Friday around 3.30pm… For the written exam : do you prefer I take the exam on Wednesday, Friday afternoon or Saturday? Thanks in advance. See you tomorrow xx Céline
Thank You Fred!  Thank You!  Thank You!!!  Amazing training!  Amazing Teacher! Lovely Yogi!  It was intense and i have learned so much!   With Gratitude, Celine
Dear Fred,
Thank you so much for your guide during the course.  It's been an amazing journey for me and for everyone!  Your passion, energy and soul are absolutely fantastic.  I am so glad i was given this opportunity to learn Yoga and MORE!!!
Mariko
Hello Fred!
Hope you are well my friend! How are you doing? I would have loved to attend the online classes and even open my own studio, but there is no way i can get fast broadband here in the countryside very sad…
After yesterdays yoga i got a comment from my students that they love the way i instruct them into the poses,and i thought of you and feel deep gratitude for all that you have thought me. I would like to share my first video with my daughter, i know there is almost everything different than i have been taught and some mistakes too but even so, it is at least ours. Shared with love.
we are wroking on…. Classes are building up. Just love the results ! people feel better, sleep better, getting stronger and healthier… OM…
Namaste
Timea
Dear Fred,
SO happy to have you back here, Fred! And thanks for the awesome class today!! PS You made Ryan fall in love with yoga all over again! Blessings and the best of luck with the new group tomorrow! See you soon!!
I have searched and searched a Yoga Teacher Training that I would feel that I could connect myself with teachers and the content of the program prior to submission of my application. Then I found Fred's YTT. I watched his interviews and read his bio… I knew immediately THIS IS IT!
Now I am sitting on my desk and reflecting the YTT that I graduated about a week ago. WHAT A GREAT JOURNEY. THANK YOU, Fred! I also appreciate the warm support from classmates and those who made the program happen. Fred guided us with his tremendously powerful spirit and intentions throughout the course. He taught us wide-range of elements not only for preparing to be a yoga teacher but also for being yourself; surrender, compassion, gratitude, forgiveness, intention… Who else could teach us about the life and to be a good yoga teacher with such a deep and a thoughtful way?
Thanks to Fred's support, I am physically and mentally much stronger than ever before. I became more aware & sensitive to other people and to living things. Everything came to me in a perfect timing. Perhaps I could not have done the same thing or followed Fred's guidance if I have done this training earlier or later than the present moment. Everything happened in the right time, in the right place and with right people.
I am already thinking about the next step – taking a 500hrs teacher training. I would love to learn again from Fred. In order to reach the stage, I will keep on working hard for myself and for others with the essence that Fred taught us.
Thank you… and Namaste.
(P.S. thank you for your patient for waiting for me to complete my exam… 5.5hrs!) Mariko Hiyama, from Japan/lives in Europe
TESTIMONIAL for Fred Busch Yoga
I got pregnant pretty quickly after completing the FRED Busch HOT POWER Yoga Teacher Training in Malta and this was the best thing that could have happened to me and my still unborn child. The intense physical training developed unknown strength and flexibility in my body. I was in the best shape of my life and that turned out to be an amazing starting point for the creation of life within. The Fred Busch healing sequences were absolutely priceless in assisting me throughout the months of immense physical changes and helped to limit the pains that come with carrying an unborn child. Practicing Yoga daily almost eliminated the common "side effects" of pregnancy (nausea, sleeplessness etc) and turned out to be extremely beneficial during the birth. It stays impossible to imagine giving birth without the learned and practiced focus on breath and deepened meditation, which helped me to move beyond and transcend the mind. Last but not least, I am entirely grateful for the awareness Fred shed on food – nothing has ever transformed my life more towards a compassionate and healthy understanding of nutrition.
The FRED Busch TT helped me throughout the pregnancy and birth in such profound ways that I cannot help but advice every woman to consider absolving it before getting pregnant – regardless if she wants to become and teacher or not. It will strengthen mind, body and soul before and throughout pregnancy – of both mother and child, while at the same time create the mental and physical flexibility to deal with birth and the exhausting but also exciting time after that.
You have been extremely special and inspirational throughout this entire process. I am blessed and honored to have trained under you. I will be in Colorado in the next couple of months, hoping to cross paths with you and learn even more. Thank you for the opportunity to sub Mayara's classes while she's away with you. I feel HONORED. This has been a life changing experience, in which I have completely dove in and taken the biggest chance of my life… Quit my job and ready to ROCK IT. Thanks to you, I believe that I can do it.
All I can do is extend my deepest gratitude to you and for making me the best version of me.
Much love.
Love and tones of good vibes!
Sandra H.
Fred, you are the best teacher, you teach yoga, you teach teaching, you teach marketing, you teach surrender. My entire life has changed, (okay, still no boyfriend) , I v changed. One of the most known yoga teacher broke his hand yesterday, and he called me!!! to substitute him. Me?! A beginner! Everyone knows him, he knows everyone. I can't believe it. He will be there to check me, I m have to give my best and more Fred, thank you!!!!!
Just wanted to say THANK YOU for such a wonderful experience… Even though you weren't here, your spirit shined through and I felt you here. I can't wait to personally meet you..and feel your presence. You have been extremely special and inspirational throughout this entire process. I am blessed and honored to have trained under you. I will be in Colorado in the next couple of months, hoping to cross paths with you and learn even more. Thank you for the opportunity to sub Mayara's classes while she's away with you. I feel HONORED. This has been a life changing experience, in which I have completely dove in and taken the biggest chance of my life… Quit my job and ready to ROCK IT. Thanks to you, I believe that I can do it.
All I can do is extend my deepest gratitude to you and for making me the best version of me.
Much love.
Bianca
Hi Fred!
How are you? I wanted to start off by thanking you for inspiring me along my yoga journey. Your teacher training was amazing and certainly a pivotal point in my life. I made fantastic friends that I still keep in touch with and created memories that will last a lifetime. Furthermore, my love for sharing yoga with others increased tenfold to the point that I've decided to open my own yoga studio here in Toronto. I wanted you to be one of the first to know before I announce it publicly. It will just be a small, intimate studio, but I'm going to put my heart and soul into and make sure each and every one of my students walks out of there feeling happier and healthier. Depending upon construction, I should be ready to open by early 2014. If you're ever in Toronto, I would be honoured to have you visit. Zenergy Yoga's doors will forever be open to you.
Have a wonderful evening and once again, thank you for sharing your knowledge and passion with me.
Yours in yoga,
HOLA FRED
Como estas? Como van los preparativos de tu matrimonio? me mandas fotos!!!
Aqui te mando el archivo con las respuestas  del Quiz.
Quería darte las gracias por todo lo que me enseñaste en el curso y espero seguir aprendiendo cada dia más y ser una mejor profesora cada dia y poderme parecer cada día mas a tu forma de enseñar!!
Con este curso me ayudaste  a descubrir muchas cosas de mí, a ser una mejor persona, a valorarme  y a disfrutar mas la vida!!
Te mando un abrazo grande y muchas saludes a tu esposa.  Espero tener noticias pronto de uds.
Saludos
Adriana de Greiff P.
FELIZ NAVIDAD Y UN LINDO AÑO 2014 LLENO DE COSAS BONITAS
What an incredible place, I hope to have the opportunity to go after, I just want to say I am totally grateful, happy, excited, in my training Fred Busch Faculty is the best yoga, and God knows I look and look before choosing Fred, I could not have chosen better. Thank you!
marcela magnus
Dear Fred,
Your video about Food and Wellbeing changed my life from day one I watched – Going from having to have daily protein/ meat or fish to vegetarian/ vegan without any efforts from my side. It opened my eyes and became a transformation point for me in many other areas as well.
It's been over 6 months now and I know there is no turn around for me, no way !…I love it & enjoy it, feeling better/ lighter/ more energy & obvious added a few health benefits: lower cholesterol, weight, 10 times improved PMS & cramps, much more energy.
Thank you from my heart:)


Thank you Fred for your teaching us so much about Yoga Therapy.  Your system where there is always an option to keep you moving is invaluable! In fact my favorite students are ones with injuries! I love to help open up their world to the endless possibilities with modifications..
Thank you Fred for helping me understand that many many years ago. Although back then I thought it was mis fortunate to injure myself during TT it turned into a blessing in disguise  Some of the most valuable information I learned in teacher training with you, Fred . Good for my own practice. Good for students when I was teaching.


Rachel Novetsky Well said! The best teacher xo



Jote Prakash Kaur Amen Fred. You are an amazing teacher. I learned so much from you. Thank You. Infinite Gratitude. Namaste



Dear Fred,
It´s a while since the last time we where practicing Yoga, it seems like yesterday.
For me was an honor to become your student, I learn so much…
At the beginning, I was anxious for learning the technics of asanas but the days passed and that feeling sometimes become into sadness because I realized how far I was from enlightenment and how poor my hurt was of love.
Other times,  I was angry because I have no time, I was focused in my own world, time, work, etc. Those days were really hard for me.
Know, I understand that all those feelings were part of my transformation for being a better person and that I have to do the TT.
There are moments when your words came into my life and they guide me in my daily labor; when I feel happy, sad or angry there you are, talking to me.
You also give me the opportunity  to learn about Yoga history and philosophy, I can't stop reading and I Google to know more about them.
It fells like magic in my life and I know is God that through you makes me every day a better person.
I remember the first time I saw your eyes. I sow the whole universe in them. I can't explain what I fell, it was like looking a deep space full of God… I love to see your eyes, really. jajaja
For all these things thank you. Thank you for showing me the path of  love, forgiveness, consciousness, for being grateful… for bring YOGA into my life.
Hopping to see you soon.
Hey Fred,
Sorry that it has taken me so long to write you.  I have been struggling with writing something that is useful; but, that is also consistent with my more intimate thoughts.  Candidly, you truly are a masterful yoga Guru.  As I practice and learn more, I understand and appreciate (to a small but greater extent) why you do things the way that you do.  I have tried quite a few practices and its rarely even close (although I did think that Dharma Mittra was incredible).   I also feel that you do a great job integrating the fundamental ideologies of yoga to our contemporary society  (which is not easy since, for example, most of us are probably not willing to detach from all material possessions and wander around the countryside).  In addition, I'm really am impressed that you encourage students to become self actualized rather that preaching.  Surely, this is really the only effective path to any sort of self improvement.  The practice has helped me become so much more happy and emotionally stable.  I am profoundly changed. I'm happy and I don't think that I was before.  In many ways I think of my life before yoga, and after yoga.  I have gone through things without much trouble all that nearly caused me to have breakdown a number of years earlier.
So, really and truly…THANK YOU.  I know that it is not easy to teach day in and day out.  Your work is important.  Please keep doing what you're doing!
THANK YOU FRED!!!!!! 
I don't have enough words to express all my gratitude to you and your staff! 
Thanks!!!! It's been one of the most powerful exp of my life!!  Thank you thank you thank you!!  I've been sooo deeply inspired by you!! THANKS!!
Hi Fred!
First of all, I'd like to thank you because your training is really amazing.
You surprised me beyond words in your thoroughness, depth and inner intelligence.
So thank you.
Thanks for your understanding and thanks again for this wonderful opportunity to learn from you.  I am extremely grateful.
Dear Fred please keep me informed of your public class schedule…I want to be part of as many of your classes, by far you are the best!
"Dear Fred:
Thank you so much for everything you teached us. I appreciate all you transmitted us in these last weeks. The knowledge you learned from your masters and your own experience and personal perspective of life, yoga. Thank you for open us your heart. You will always be in mine, for example when I hear the music you copied us, so full of energy and so profund as far as I can understand the songs with my limited English and more limited Sanskrit but the language of the heart is somehow ever understand 🙂
This teacher training was a gift from heaven for me and you are like the angel that God choosed for opening us the door to yoga world, where love is raining and the bliss is growing like flowers of all kind of colours from the ground, a trip to the inside of ourselves, to remember what we really are and not being afraid of opening our hearts whatever happens. Simple words but they change so much the way eyes can see.
In a way these weeks were for me a kind of vacation of mother activities, wife and a full time connection with yoga, with everyone and everything, with God.Now I'm recharged for taking again my normal activities and probably beginning to teach yoga. I don't know how to start but I may have some ideas when the time comes …"
"I am so thankful for all the insight and teachings you blessed me and everyone with. Thank you for helping me birth new possibilities in my life. I'll be in touch, and will be sending pictures soon."
Thank you Fred, for everything you do, What I've learned from your teacher training, the things you've exposed/re-exposed me to has been the most personally grounding, humbling, Gratitude invoking, and Self Fulfilling experience for me.
I feel so grounded in Truth and in Love, and it is manifesting greater than ever could have been thought possible.
What you do Fred, your Being, and your Truth. Truly Make a Difference to so many more people than I think you could Imagine.
 Thank you, I Love You.
Hi Fred
I really wanted to say is how grateful I feel for all the amazing wealth of knowledge and wisdom that you are bestowing on us.
i have only reached my own journey of questing for light through reaching the very depths of darkness many years ago. You are so crystal clear and mindful and inspirational and I feel completely blessed by this experience.
Thanks for all that you share
Fred,
Thank you so much for being an amazing, authentic, and genuine teacher. You've taught us the true meaning of YOGA! Blessings.
Dear Fred,
Meeting you and taking your course has been life changing for me. Thank GOD for Yoga. It has helped me so much. God Bless You.
Fred,
I came away from your class yesterday, inspired to take a fresh approach to my beautiful strong back…:)
Ring me so we can schedule a learning session. Thank u for extending your kindness. It was palpable.
Hey Fred
I know that student testimonials are valuable and wanted to express my thanks for sharing your practice of yoga with me.  Your teaching is truly special and extraordinary.    My fitness level has been significantly elevated and I feel physically great; but the real gift is that the practice has made me profoundly calmer, less stressed and joyful.   Your sequences and approach to asana while maintaining meditative breath and mind, results in an amazing and transformational experience.  I tell my friends that they have probably not truly experienced yoga until they have practiced with you.  I feel fortunate and grateful to have the opportunity to practice with a master with your experience and knowledge. Thank you very much.   
"Hey Fred, How are you? I wanted to just say hello and let you know im teaching my first pre-natal yoga class today and am very excited. I have been teaching weekly classes at studio in kensington. I wanted to let you know that there isn't a day that goes by that i dont think of you and all the knowledge you have passed on to me. I am forever grateful for all of your words of wisdom which i again i use daily in my own classes and all of the sequences and incredible techniques i apply each and every day. Thank you ( much overdue)! Hope all is well."
Hi Fred!
It was so nice to having talked to you last Sunday. You're full of
peace and grace! Soo good for everyone around you since you transfer
that in an immense and joyful way!
Can't wait!!
Thanks
"Fred, Thank you so much for being an amazing, authentic, and genuine teacher. You taught us the true meaning of Yoga. Blessings… "
 "Dear Fred, A note of thanks to you. I'm sure you don't remember me but I came to the Brickell studio in early 2008 with my daughter. It was my first time and yoga has really saved my life. I practice all kinds of styles of yoga nearly every day and am progressing quickly to a place of great happiness. Anyway, I thought you might want to know that the work you do really changes people, in this case, me. I will hopefully see you in a yoga class somewhere in Miami soon! "
"Dear Fred,  I am so excited for the upcoming teacher training! I can't imagine being in the hands of someone more gifted than you!!!"