Yoga Teacher Training Programs
Fred Busch is the Director of several Yoga Teacher Training and Nutrition Certifications.  See below for the details of the 200 Hour and 500 Hour Yoga Alliance Programs.  In addition Fred is the founder and Director of the Yoga Nutrition Detox Health Coach Certification training future leaders in wellness to help others.
"This is really the best yoga teacher training I've ever attended – the greatest Teacher, all amazing people in the group, beautiful place there and atmosphere, and exactly what I needed to know, learn and experience at this stage of life – the information and insights you provide is just precious. So happy I've joined! See you tomorrow!"
Testimonial English
Hot Yoga Teacher Training Testimonial by Sandra Herrera
Testimonial Spanish
Hot Power Yoga Teacher Training Testimonial en Espanol

Read more Testimonials HERE! 
Whether you want to be a professional Yoga Instructor or you want to deepen and expand your Self-Practice and Yoga Knowledge, the Fred Busch Teacher Training programs may be for you!
____________________________________________________________________________________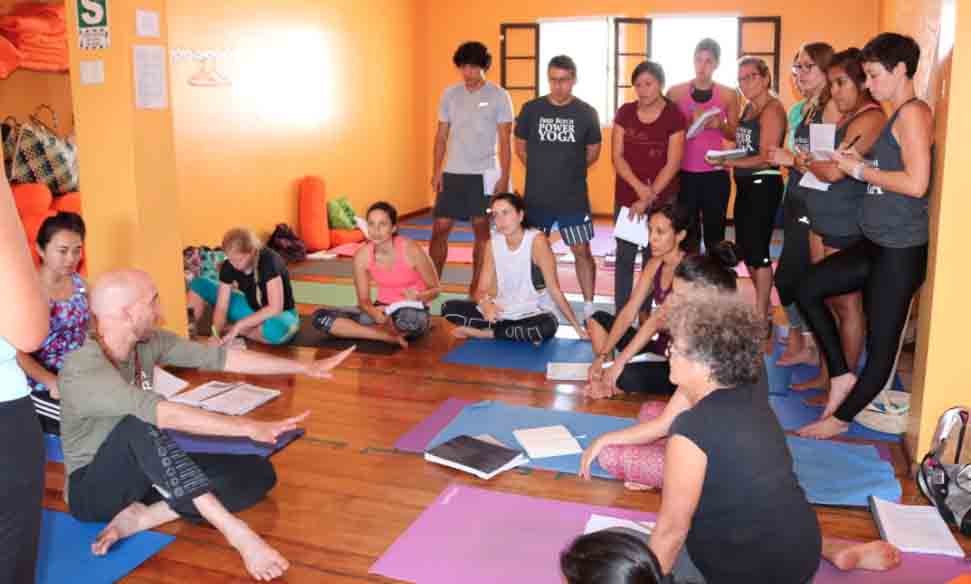 200 Hour Teacher Trainings with Fred Busch
Fred Busch successfully trains Yoga Teachers and students who want to deepen their practice and mastery of Yoga. The students learn about different styles of Yoga like Vinyasa, Hot Power Yoga, Gentle Flow, Therapeutic Yoga, Healing Sequences, Prenatal Yoga and subjects like Anatomy, Pranayama, Meditation, Yoga Phylosophy, Energetic Systems, Prana, Aura, Chakras, Mudras, Nadis, Koshas, Massage Therapy for Yoga Teachers, Nutrition with the Fred Busch Famous Food Talk and much more!
Become a yoga professional or just deepen your yoga practice with this Yoga Alliance Accredited Program!
Whether you want to be a professional yoga instructor or you want to deepen and expand your self-practice and yoga knowledge, the Fred Busch's Yoga Alliance Accredited Hot Power Vinyasa Teacher Training Programs are for you! Fred successfully trains yoga teachers and students who want to deepen their practice and mastery of yoga.
Fred Busch's graduates own and operate successful yoga studios all around the world from Europe to South America. Fred's training, however is not only for people who want to be professional yoga teachers. This is because the great value of this Teacher Training relates to personal growth and development. Many people are interested in learning skills and yoga techniques to help themselves to be healthier, more content, and more connected to spirituality. This is the primary intention of the training.
Fred Busch's Power Yoga Teacher Training Curriculum:
Introduction To Yoga And Yoga Philosophy
Learning To Self-Practice
The 4 Paths And The 8 Limbs Of Yoga
Mastering Standing Poses In Self-Practice
Introduction To Yoga Anatomy
The Famous Fred Busch Food Talk
Fred Busch's Healing Sequences For Power Yoga
Arm Balances And Intermediate Poses
Learn About Human Energy Systems
Explore Headstands, Shoulder stands, and Backbends
Learn What Prana Is and Its Relationship To Pranayama
Learn How To Teach Pregnant Women Safely
The Art Of Teaching Private Yoga
_______________________________________________________________________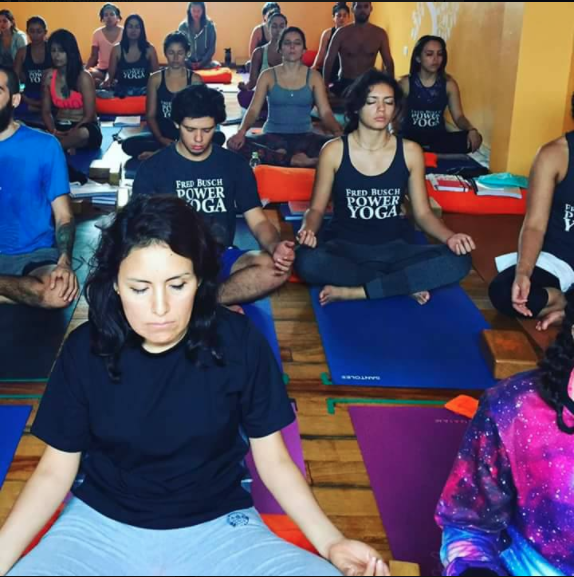 500 Hour Advanced Yoga Teacher Training
Raja Yoga, Meditation and Conscious Living
This is an advanced training without question, it not designed for the average modern yoga student only interested in vinyasa sequences, as it is going to teach you the real meaning and method of Yoga Meditation and the ultimate practice of Raja Yoga. 
The materials and main text book by Master Brahmananda Saravati, which are guiding this training are potent in their capacity transform our life and marshall the power of the mind to manifest a higher destiny.
This intensive Raja Yoga and Conscious Living Teacher Training is directed entirely by Fred Busch. This is a program focused almost exclusively on Meditation and Raja Yoga, however we will be practicing Fred Busch Power Yoga every morning along with pranayama.
Working systematically through the most powerful translations Patanjali's Yoga Sutras and the 8 Limb Ashtanga Yoga Path, students will learn the authentic Yogic Techniques of Meditation which are not easily discovered even by experienced students.   In addition to the focus on Meditation and Samadhi, this training will also develop personal practice of Asana, as well as have modules on Conscious Living and Health Coaching.
Fred Busch offers Teacher training programs in Miami, Colorado, Lima, Bogota, Aruba, Dominican Republic, New York, London and more! Check our calendar to find the best date and location for you!
____________________________________________________________________________________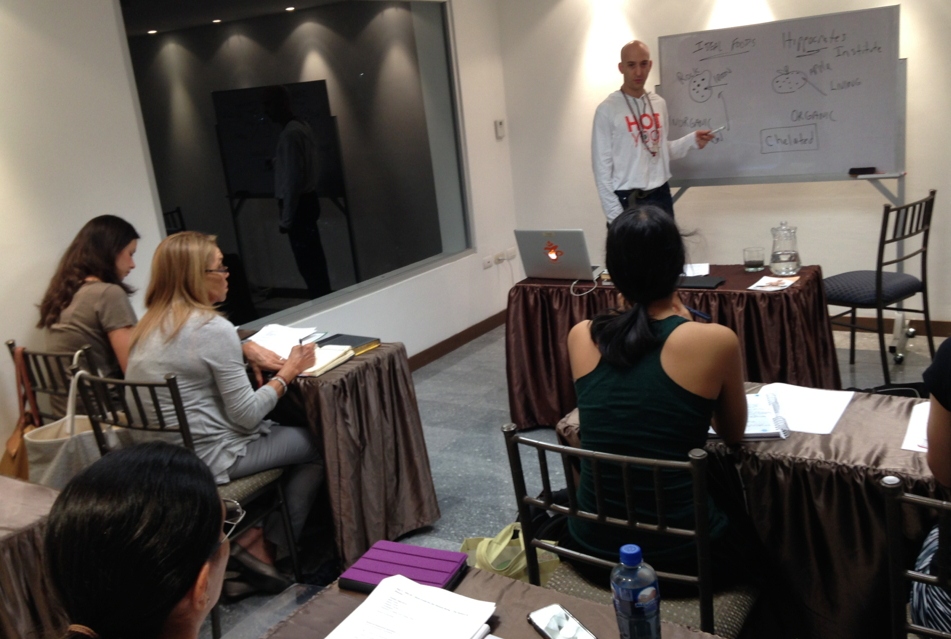 School of Plant Nutrition's Health Coach and Detox Certification
An Intensive 10 Day Program
Our next program will be at the amazing Salamadhi Ranch in Colorado on August 25th, 2017
The experience and knowledge gained in this training will provide the foundation and power behind your ability to heal yourself, be teachers and leaders in the field of Wellness and Nutrition.
Course Requirements
YogaNutrition Sadhana
Completion of Required Assignments and Homework
Examination
 Lifestyle Requirements
Dietary discipline is required. Experience is the foundation of leadership. No alcohol and no addictive substances.
 Journal
10 minutes daily of journaling
 Food Log
Recording all food and drink taken into your official journal.
Required Texts
The Official Course Manual by Dr. Robert Snaidach
The Detox Miracle Sourcesbook by Robert Morse, N.D.
A Clear and Definite Path by Fred Busch
The China Study by Dr. Colin Campbell
Final Written Examination –
All students must pass Final Exam
Required Homework Assignments– Homework Questions, Define and Describe, Video Assignments and any other assignments personally given by faculty
Practical Examination –
Demonstrating thorough understanding and an ability to communicate the material.
This nutrition certification is based on the principles of Integrative Health and Nutrition relating the 3 most important components for well being- Smart Exercise, Smart Food, Awareness of Mind Patterns. It is both for persons interested in becoming powerful Health Coaches and for Yoga Teachers who want to become much more valuable to their students. This is a professional certification designed specifically for those wishing to become Teachers and local Authorities on the subject of Food and Nutrition and how it relates to Yoga and overall health.
Curriculum inspired by Dr. Robert Morse and developed by Fred Busch focuses on the Nutrition aspect of wellbeing for Yoga Teachers who want to be able to guide their students and clients to the highest level of well being and physical and mental performance.



The School of Plant Nutrition Health Coach Certification is a potent training for both personal and professional intentions.   This program is primarily interested in the prevention and healing of diseases of all kinds through the application of the laws of nature and what Fred Busch calls 'The Three Pillars.'



Learn the science behind Nutrition and why Vegan and Raw Food styles of eating are superior. Learn the psychology needed to approach people with the subject of food and how a sense of humor is the best means to teach clients. The ability to be confident about any question related to Nutrition is what is being offered here by Fred Busch and his highly popular YogaNutritionist™ Certification offered in Miami, Colorado, Peru, Ecuador, Colombia, Canada and other locations around the world.



Sometime just teaching Yoga is not enough to make a real difference. The more we teach Yoga the more we realize that people Yoga practices and indeed their life path is determined and constrained to a great degree by their diet. Students that eat better have better results in Yoga and people who eat better have better results in their overall health and wellness.



The ability to effectively express the virtues of eating less animal foods and more in accordance with human physiology is something that requires specific training in several areas. Students and future teachers must have both sufficient knowledge  to answer any nutrition related question and have the skills to manage the many psychological barriers that people erect when the subject of food is raised.



The YogaNutrition Certification teaches the chemistry, physics and electromagnetics of smart eating.  Fred Busch also instructs clearly the critical ways to disarm the barriers so that people's resistance to changing diet.  Students are given lifestyle requirements during this training so they are able to understand, experience and absorb the information being transmitted.
It is also ideal for anyone who is searching for knowledge. This training teaches many things along with the biology and physiology of human nutrition and human psychology and how to effectively relate this information to the general public.
The YogaNutritionist™ certification includes two of the most powerful manuals ever written about Nutrition and Biology and Human Health authored by Dr.Robert Snaidach and Dr.Robert Morse. This intensive 10 Day program instills the fundamental principles of Nutrition, Biology, and how alignment between these principles and ourselves allows us to move towards health and wellbeing!
This Certification blends the scientific reasons for eating with awareness with the communication skills required to transmit the information to those in need. This Certification Program prepares students to become true leaders in their community in the field of wellbeing and health. As the world is becoming more aware of the connection between lifestyle and food consumption, professionals trained in the deepest understanding of health and wellness will be in greater demand.